Validation.
The engineering team has gone beyond typical burst tests to incoroprate linear & axial stress / strain testing as well as cyclic fatigue & accelerated life tests. No one else has done the extensive testing that Mueller Industries has to ensure their products are, in fact, suitable in these high-pressure applications. And no one else can provide copper tube & fittings made by Americans here in America. Did we mention that no one else has the legendary Streamline name that has served the industry for over 75 years?
Streamline® Validation Testing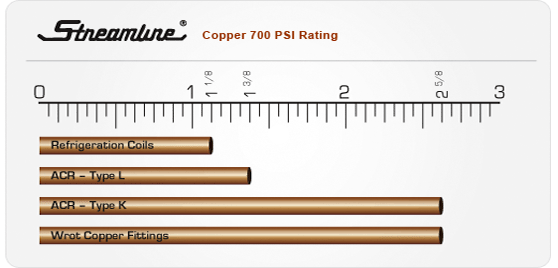 The 700psi rating covers all common synthetic refrigerants, including R-22, R-404a, & R-410a...as well as subcritical CO2. Importantly, this rating is consistent with other key system components, like Streamline refrigeration valves, sight glasses, strainers, line sets, and more.

For More Information, visit: